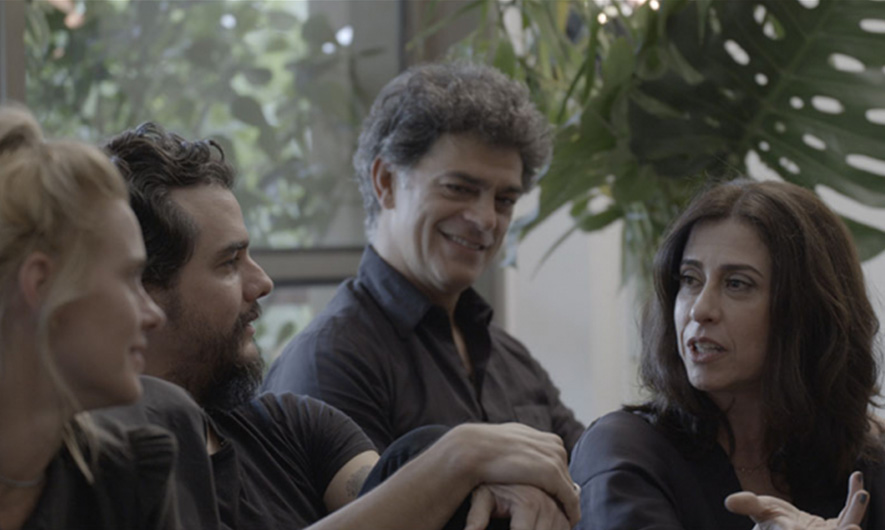 The Magnificent 8
A film by Domingos Oliveira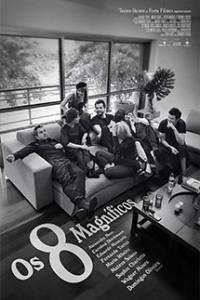 A group of actors meet up at one party and make plans to hold another. There are eight of them. Super famous, very interesting and very willing to spend a day together – talking until dusk about the mysteries of the actor's soul. And it happened. In one of their homes – with its view of the vast ocean. It was a riot! And full of surprises. I'll try to explain, but first the actors' names: Alexandre Nero, Carolina Dieckmann, Eduardo Moscovis, Fernanda Torres, Maria Ribeiro, Mateus Solano, Sophie Charlotte, Wagner Moura.
They weren't just any actors. When I look at the list above, I'm amazed. They were the Brazilian best actors of their generation. All very different, but the best. The simple act of putting them altogether in one room justifies the project, a documentary about the actor and the complexity of his creation. Hence the film's byline:
"THIS DOCUMENTARY WAS MADE EXCLUSIVELY FOR ACTORS AND THOSE INTERESTED IN THEIR ARTISTIC PROCESS."
With that in mind, I jumped in. I had never made a documentary before. And I should have done some already. Because my greatest pleasure in my fiction films is exactly that clash of reality which always forces us to pull apart traditional structures. Well, a documentary is just that – a clash of realities.
I invited my two favorite assistants, actress Priscilla Rozenbaum and director Matheus Souza, and we came up with a skeleton script that could guide our shooting day. We laid out bottles of good-quality booze and called two very accomplished cinematographers, Fernando Young and Manuel Aguas.
We pitched our script to the actors. Imagine – eight talented and restless minds, so not one of them agreed with everything. But everyone wanted to start filming. And me too. So we did away with the script. We left only a few poems and anecdotes on the table. The two cameras were rolling all the time. Nobody waited for lunch to start drinking whiskey and philosophizing about man's most beautiful dream – the Theater. It was very funny, jovial, and some brilliant ideas emerged – maybe unintentionally. It was like in the theater, an impro, banter without barriers, with open hearts, letting the audience in on something they have never seen.
Twelve hours of filmed material was the result, chaotic but always captivating. I didn't know what we'd make out it all. We were aiming high – a short for the Rio Film Festival. But when we looked at the edit we were surprised.  The editor (Victor) and I actually had a 50-minute film. Closer to a feature-length documentary than a short. It wasn't brilliant, but it had moments of unexpected emotion. I edited it freeform, as if I were Luc Godard. Would we make it into the upcoming Rio Film Festival? Perhaps in the Hors Concours category?  And that was exactly where the Festival put us!
"Everything that is divine is effortless" said the Greeks.
Crew
Cinematography: Fernando Young and Manuel Aguas
Editor: Victor Magrath
Sound Recordist: Antonio K Grosso
Sound editing and mixing: Bernardo Gebara
Art Direction: Miguel Pinto Guimaraes and Marcella Muller
Costumes: Marina Franco
Makeup: Nat Rosa
Production Designer: Eduardo Vilela
Executive Producer: Renata Paschoal
Post Production Supervisor: Breno Soares
Production Company: Teatro Ilustre
Director: Domingos Oliveira
Assistant Directors: Matheus Souza and Priscilla Rozenbaum
Focus Puller: Felipe Ovelha
2nd Assistant Camera: Marcio Lucas
Boom Operator: Yron Batista
Press Office : Vanessa Cardoso
Distribution: Forte Filmes
DIRECTOR
Domingos Oliveira
PRODUCTION
Teatro Ilustre